Big Fire "Fairy Dust" Color Changing Rainbow Effect for Outdoor Fires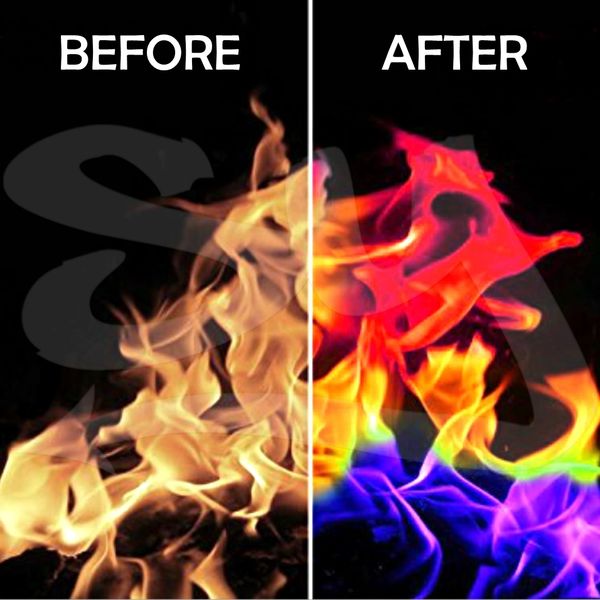 Big Fire "Fairy Dust" Color Changing Rainbow Effect for Outdoor Fires
Product Overview
Big Fire "Fairy Dust" are packets of crystals that will produce rainbows of color when thrown into any outdoor fire! 
Key Product Features
·        Guaranteed to add life to any photography shoot, bonfire, campfire, or fire pit party!
Simply throw 1-3 UNOPENED packets into any outdoor fire for a beautiful display of full spectrum rainbow colors!
·        3 packets will product colorful flames for up to 2 hours!
·        Perfect for special effect film and photography including weddings, parties, and selfie photos for Pinterest, Facebook, and Instagram
·        Outdoor use only; Do not touch or taste the magic dust or you will turn into a troll (that's a bad thing).
·        Complete instructions included
Shipping Information
·        $15.00 Flat rate shipping, regardless of order quantity. Buy more and save!
·        All orders ship within 24 hours of purchase (Monday-Friday) with a tracking number. Delivery time-frames vary by location. 
·        Ships to contiguous United States via authorized Ground services only. 
·        Does not ship to Puerto Rico, Hawaii, Alaska, Canada, APO/FPO or P.O. Boxes.
·        Must be 18+ to order
Why Buy from Us? 
We just celebrated 6 years! We love people. Every person matters. Every order matters. That's why we only store our smoke in optimally climate-controlled environments and ship each order in the highest quality, weatherproof, triple-reinforced packages. Plus, every order comes gift wrapped in fun, decorative designs! You came to the right place!
Reviews